New York City's Soho neighborhood is known around the world for its loft apartments and the largest collection of historic cast iron architecture. Before the New York City neighborhood received its name -- one that conjures up images of London's poast West End neighborhood and shopping district -- Soho was referred to as the 'Cast Iron District.'

Soho's cast iron buildings were built by a vareity of pioneers in urban architechture. Cast eventually became iron the metal of choice in the late 19th century. The material's fire-resistant properties -- during a period of major urban fires -- and tensile strength made it possible to erect large building facades at less cost than comparable stone fronts. and iron buildings could be erected with speed and efficiency. The process of incorporating cast iron into New York City's architecture began in the mid-19th Century. Cast iron is an alloy with a high carbon content (at least 1.7% and usually 3.0 to 3.7%) that makes it more resistant to corrosion than either wrought iron or steel.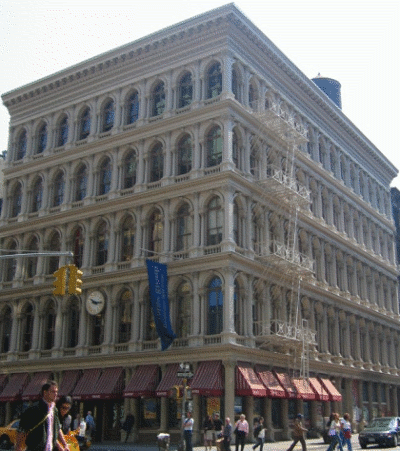 Daniel D. Badger, one of New York's most well-known architects to work with cast iron, erected one of the earliest cast iron building facades in the United States in 1842. His company, Daniel D. Badger's Architectural Ironworks of New York. Badger had an important role in constructing the cast iron facade for The E.V. Haughwout Building on the Northeast corner of Broadway and Broome Street.

The E.V. Haughwout Building (pictured at left) was a symbol of cast iron's innovative use. Built in roughly a year's time, it was home to what The New York Times called "the greatest china and porcelain house in the city."

More importantly, when the Haughwout Building opened in 1857, it showcased the New York City's first passenger safety elevator. Created by the founder of Otis Elevators, this building feature enabled store patrons to go from floor-to-floor with speed and efficiency. Best of all, the elevator enabled shoppers to carry more parcels with them, making it easier to spend more money in one location.

History of the Gunther Building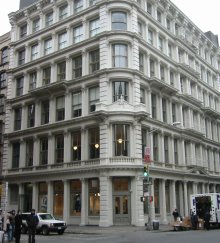 Another example of early Soho cast-iron architecture is the Gunther Building at the southwest corner of Broome and Greene Streets (pictured at right). Griffin Thomas, an architect who created a large number of the neighborhood's historic structures, designed the building in 1871, and completed it in 1873. Today, the ground floor is still occupied by a commercial tenant, and cooperative apartments are on the 2nd through 6th floors, part of the Gunther Building 1873 Corp.

The original store, C.C. Gunther's Sons, was started by a German immigrant in 1820. He had strong business ties with John Jacob Astor, a successful fur trader.

A 1959 article in Time magazine says that Gunther's "operated the only men's fur department in Manhattan, offering coats made of every kind of fur, from buffalo, favored by post-Civil War tycoons, to collegiate raccoon."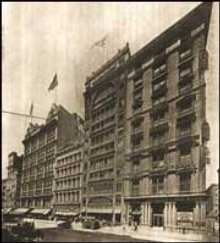 New York City's Soho neighborhood is the cast-iron architecture capitol of the world.